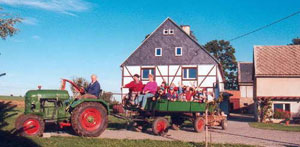 The pupils of class 3 visited the farm of Mr Geißler. There we can discover a lot of things.
Mr Geißler has still many machines from former times, for example the
rope lathe
. It makes a rope of four to five thin cords. In former times people had to turn the rope lathe with their hand. Later Mr Geißler converted it to engine work.
The machine works in the following way as shown in the video clip on the right hand side:
You take four or five hooks, hung these hooks into individually swivelling loops and on them you fasten individual cords.
At the other end of the rope all cords are put together on a large hook.
When the rope machine is turned now, the individual cords twist themselves to a thicker rope.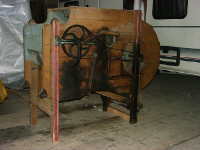 Röber's winnowing machine
With the winnowing machine you can remove the spelts from the grains. On the top there is a funnel. There you tip in the grain. By a crank the wind turbine moves inside the machine. Then you open the funnel and the grain comes out. The produced wind blows away the lighter spelts of the grains. The grains fall on a filter, are through-vibrated again and then land in a large dish.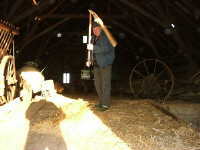 Flail
Mr Geißler also built some flails. They were used in former times for beat (thresh) the ears. Sometimes Mr Geißler tries together with the children to thresh grain. It is very difficult to stay in time.
The flail consists of a long rod of wood with a small piece of wood on a leather belt.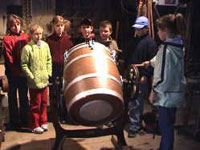 Butter churn (centrifuge)
At first, you pour thick milk into the wooden churn. When it is now rotated by the crank, the milk becomes slowly more solid and is butter finally. Through a little window in the cap you can see when the butter is ready.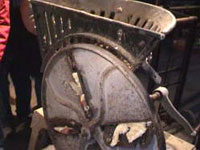 Beet cutter
The beet cutter chops beets up with several cutters. When you put a beet into the hopper and turn the crank, the cutters are rotating and the beet is chopped of.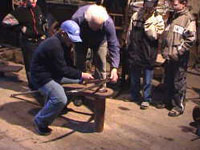 Scythe thinning
The farmer puts the scythe blade on the anvil and hits the blade with the hammer. The scythe blade has to be gauzy and as smooth as a razor blade, so that the scythe cuts well. Thinning demands a lot of experience.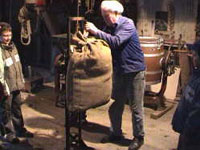 Hand truck with crank
The hand truck is used to handle heavy loads, especially filled sacks. With this hand truck, the sack can be elevated by a crank. That way, it is easier to take on back and carry away.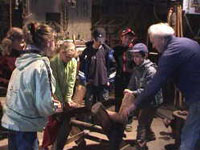 Whipsaw
The whipsaw has to be agitated by two persons. With its coarse teeth it also saws bulky timber. It is important to pull regularly, otherwise the saw will seize.